I have so much trouble finding shoes that fit right. I've always wanted a pair of ballet flats, but never have I found a pair that would accommodate my wide toes. It's just my toes that are wide, and I'm also an exact 8.5 (big feet for an Asian girl). Half-sizes are usually very hard to come by, and an 8 is always too small, and a 9 generally too big.
Welcome to Keen! Keen makes awesome shoes!! I fell in love with these Keen Bali sandals last year, and they are my new favorite! A great alternative to flip-flops, which are a necessity here in the Florida Keys; these Keens have rugged soles and traction, arch support, and my toes stay well-protected from stubs and falling coconuts (not that I've ever had a coconut fall on me... knock on wood).
Keen also uses eco-friendly manufacturing processes, including the use of recycled rubber and other components. I've since purchased a Keen messenger bag, with a rubberized bottom, made from the leftover scrap rubber from making shoes, and metal clasps and loops, made from scrap recycled aluminum.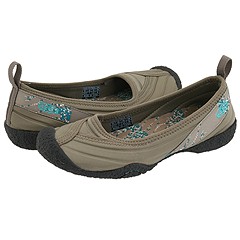 Back to the ballet flats dilemma, I found these Keen Madrid Ballerina shoes at
LLBean.com
. BTW, if you are a fan of L.L. Bean, I highly recommend signing up for their visa card. Aside from $10 rewards certificates, good for L.L. Bean merchandise, for the dollars you charge to your card anywhere, you also get free shipping (including return shipping), and free monogramming! I applied two $10 rewards certificates to these shoes, and right now, L.L. Bean is also having another promo, giving me another $10 gift certificate that I can spend on a future purchase. Bonus :)
I can't wait for my new shoes!! They'll be perfect for our upcoming trip to Vancouver. It's time for our annual trip to Grandma and Grandpa's, and this time, we're having a little reunion with some much-missed family members. Yes, family that we really do want to see and spend time with ;) These shoes will be great for getting through airport security, and for our walks through beautiful British Columbia :)